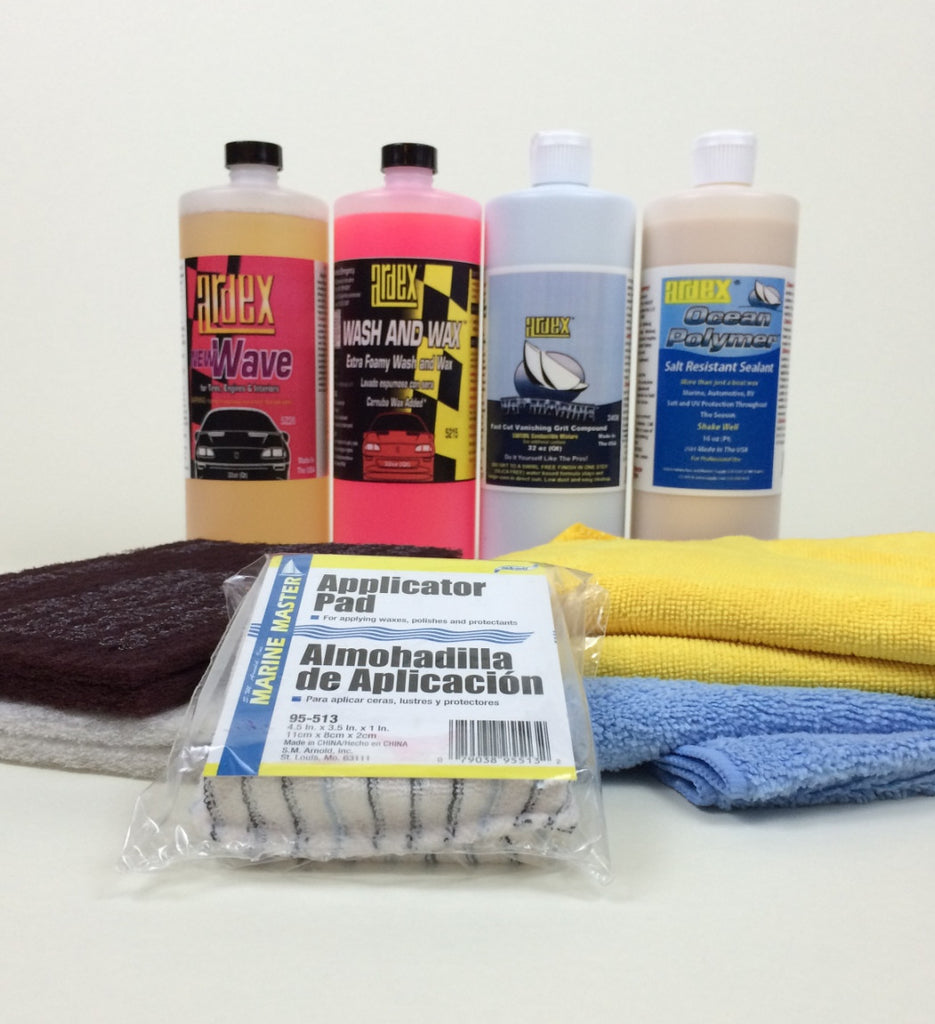 Boat Detailing Kit 32oz For Mid Size Boats And RVs
Ardex Boat Detailing Kit 32oz
In The Box:
1 x Ardex New Wave Multi Purpose Cleaner 32oz
1 x Ardex VG Compound, Swirl Free Variable or Vanishing Grit 32oz
1 x Ardex Ocean Polymer Protective Sealant 32oz
1 x Ardex Wash and Wax, Extra Foamy 32oz
4 x 3M Cleaning Pads Ultra Fine and Light Duty
4 x Microfiber Towels (Color May Vary) 
Includes almost everything you'll need to clean, prep, shine and maintain your boat, RV or personal watercraft. You'll need to provide a hose and bucket.
This is also a great crossover kit all  the Ardex detailing products included will work great on your car, truck, fleet vehicles and around the house.
Ardex New Wave:
A superior multi-purpose cleaner/degreaser highly concentrated, non caustic with a fresh new car essence. Simple dilution instructions make this product tough enough to take on bilges, engine rooms, rust stains and wash downs with speed and ease. Mild enough to use on fine leather, pleather and interior furnishings. New Wave cleans as effectively as powerful caustic cleaners without the caustic and at a very high dilution. Use on your boat, water craft, RV, car prior to wax and around the house.  
"Not nearly as versatile or concentrated but compare on eBay to Orpine, Meguiars and other popular marine cleaners. The Wash & Wax thing, "Forget About It!!" If your boat finish is not high gloss to start, none of these Wash & Wax cleaners will make your boat shine."
" New wave is superior when preparing you boat, RV, car, truck and fleet vehicles for detailing or restoration. It cleans deep into the pours of oxidized, weathered gel-coat and paint and strips old wax making the surface ready for your next step, wet sand or compound. Protect your final showroom finish with Ardex Ocean Polymer for gel-coat marine applications and Miami Shine for automotive."   
Capt. Rick McALeer
Naples Yacht Services
Ardex VG Compound:
Do it yourself like the pros. Ardex 800 Variable or Vanishing Grit Compound is as user friendly as it gets. This is the most advanced compound we've ever used.
Remove heavy oxidation, 1000 grit and higher wet sanding and other fine scratches with ease and achieve a swirl free showroom finish with one easy step and almost dust free application. This is a Water Based, "Silica Free", eco friendly formulation,"Silica Free" vs hazardous "Crystalline Silica" found in most popular brands. The product stays wetter longer even in direct summer sun, cleans deeper and want gum up your pads. It starts out at about an 800 grit mix and vanishes into a swirl free showroom finish. 
Best applied with a variable speed buffer with a white fast cut wool pad for gel-coat, yellow light cut wool or foam pad for paint. Work hard to reach areas by hand to blend with field.

"This material does not compare to anything we know of, when it comes to ease of use, results and cleanup but compare on eBay similar results and price to 3M Imperial Compound and Finishing Material"
Capt. Rick McALeer
Naples Yacht Services
Ardex Ocean Polymer:
Ardex Ocean Polymer is more than just boat wax, Ocean Polymer is a nano/micro technology formulation that penetrates deep into the pores of gel-coat and painted surfaces to provide a crystal clear, high gloss hardened polymer barrier for outstanding UV, salt and weather protection throughout the season. Use on watercraft of any kind, RVs, aircraft, painted surfaces, gel-coat, metal and fiberglass. Works great to protect cars, trucks and commercial vehicles during the winter season when roads are salted. Use around the house on windows, glass shower doors, bathroom & kitchen fixtures for corrosion protection and to prevent water spots. At Naples Yacht Services we've been testing this product for about a year in extreme UV, heat and weather conditions.
The white sport fish images in the gallery are of a 1996 Egg Harbor. We have been operating and maintaining this boat for almost 15 years. The photos were taken after an Ardex Wash and Wax wash down and the second application of Ocean Polymer. The original Ardex gel-coat restoration was done about 3 months earlier using Ardex New Wave for the pre gel coat restoration wash down at about 1 oz per gallon dilution, Ardex VG Compound and Ocean Polymer protective sealer applied with a variable speed buffer with a wool pad at about 1800-2000 RPM. On new or non oxidized gel-coat and paint Ocean Polymer can be easily applied by hand or with an orbital buffer to achieve the same results.
Bulk Discounts Available.  
"The sun is gel-coats worse enemy, in our side by side testing Ocean Polymer provided superior UV protection over extended periods. Compare to Meguiars Flagship Premium but go with the Ocean Polymer"
Captain Rick  McALeer
Naples Yacht Services
Ardex Wash and Wax:
Car, Truck, Boat and RV Ardex Wash & Wax Extra Foamy.  Clean and shine in one easy step without stripping your wax.  Compare on eBay to Orpine wash and Wax without the smell.